Moss Salon in Providence
114 North Main Street
Providence, RI, 02903
(401) 751-8877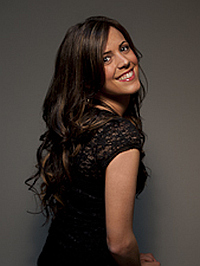 Laurie
Hair Colorist, Stylist
Reviews:
Laurie is THE BEST! I have s'wavy hair and have always had "wash & wear" hair, which means I have exactly 0 knowledge of how to style my hair or repair damage. When I first moved back to Massachusetts, I went to my old salon - NOT Moss - and they ruined my hair. RUINED. It was a frizzy, coppery, disgusting mess. I went to see Laurie and she fixed my color, chopped off all of the damaged hair (with my permission - it had been super long, but it was unhealthy so I wanted it gone) and gave me fun layers. I just went back again and since I liked the layers so much last time, she gave me even more, and my hair is really truly PERFECT for my face shape now! I am so happy. Also, as an added bonus, I think Laurie is DevaCurl certified. Go see Laurie. You won't regret it!
Sable W. 2/12/2014 on Yelp 5 stars
Laurie literally makes me look 10 years younger. She is a true artist.
Catherine C. 9/14/2013 on Yelp 5 stars
...
I recently got my tresses trimmed too by the lovely Laurie Lamay the same day. Now, my hair is long w/ long layers. It's actually hard for me to discern whether I actually have a good haircut or not. But not so w/ the bang up job that I received recently. Laurie was conscious of areas that had been thinned out too much, and took pains to cut in a way that would help the strands framing my face grow in to look thicker and healthier. Plus she explained everything! I LOVE that!
Michaela F. 2/12/2011 on Yelp 4 stars
About:
Years in industry:
Since 2005.
Product you can't live without?
Hairspray and a defrizzer.
If you weren't a hairdresser, what would you be?
A Nurse.
Favorite Book?
"A Thousand Splendid Suns" by Khaled Hosseini
What are your goals in life?
To be happy! To live everyday to the complete fullest!
Background:
Laurie is intensely committed to her clients and her career. As a senior stylist, she gains a great deal of satisfaction from her clients' happiness with the outcome of her coloring and styling. Her best moment comes when she is doing the blow-out, it is then that the clients begin to see the complete look of their hair style. When they are smiling at the end of the process and their day is made all the better, Laurie has a sense of completion and fulfillment.
A graduate of Costin's Beauty Academy in 2005, she is an accomplished Deva Inspired Cutting Stylist for curly hair. Always keen to stay on the cutting edge of her profession, Laurie has attended an extensive list of advanced trainings which include the following:
Tigi Cutting Class,
Tigi World Release Class,
Reinventing Grey Coverage,
Goldwell - Red
Goldwell - Blonde
Goldwell - Brown
Oribe Styling & Oribe Cutting
label.m
Keratin Complex
Wella's Koleston Perfect Touch and Blondor Foundation
Minardi Color Class
Rates:
Haircut Women's — $55
Haircut Men's — $35
Shampoo Style — $35
Shampoo Style Curling Iron — $45
Single Process Color — $75
Half Head Foil — $125
Full Head Foil — $165
Toner — $30
Updo — $65
Updo Trial — $75