Moss Salon in Providence
114 North Main Street
Providence, RI, 02903
(401) 751-8877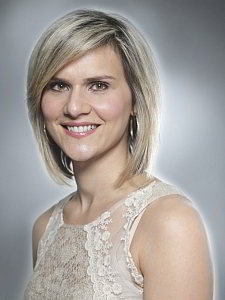 Nicole
Hair Colorist, Stylist
Reviews:
Thank goodness for Moss Salon. I've been an extremely satisfied client at Moss for over a decade.

Jody Butler was my first stylist at Moss Salon. Jody is a talented stylist and lots of fun. I tried another salon for a little bit that was closer to home (big mistake). I ended up back at Moss and Jody was completely booked.

However, I met Nicole Landry and have continued to receive high quality service. Nicole cuts, colors and styles my hair with the utmost professionalism, plus she understands my hair! I have thick, coarse, unruly and at times frizzy hair. I have NEVER had a bad experience at Moss. Nicole is very professional, always on time and knows exactly how to cut and color my hair to enhance it. My hair is now silky, healthy and easy to maintain with Nicole's TLC.

Moss Salon is conveniently located and metered parking is readily available. Moss carries a wide range of hair, jewlery and skin care products. Clients are treated like royalty at Moss Salon. The atmosphere is totally friendly and relaxed. I cannot imagine ever going anywhere else- Moss Salon is the perfect one stop shop for people wanting to feel pampered and radiant.
Barbara S. 4/14/14 on Yelp 5 stars
About:
Nickname:
Nikki or Colie
Years in industry:
Since 2003.
Favorite Book?
"The Girl Who Played with Fire"
Favorite place you have visited?
Disney.
Background:
Nicole is intensely committed to her clients and her career. As a senior stylist, she gains a great deal of satisfaction from her clients' happiness with the outcome of her coloring and styling. Her best moment comes when she is doing the blow-out, it is then that the clients begin to see the complete look of their hair style. When they are smiling at the end of the process and their day is made all the better, Nicole has a sense of completion and fulfillment.
Nicole has attended an extensive list of advanced trainings which include the following:
Tigi Cutting Class,
Tigi World Release Class,
Reinventing Grey Coverage,
Goldwell - Red
Goldwell - Blonde
Goldwell Color Solutions
Goldwell Dimensional Foiling
Goldwell Men's Cutting
Bumble & Bumble Design Workshop
Wella Koleston Perfect/Colortouch Blondor Foundation
Keratin Complex by Coppola
Minardi Color
Label M Cutting
Oribe Cutting & Product Knowledge
Kerastase Product Knowledge
Tigi Cutting
Rates:
Haircut Women's — $60
Haircut Men's — $35
Shampoo Style — $40
Single Process Color — $75
Half Head Foil — $120
Full Head Foil — $175
Toner — $35