Moss Salon in Providence
114 North Main Street
Providence, RI, 02903
(401) 751-8877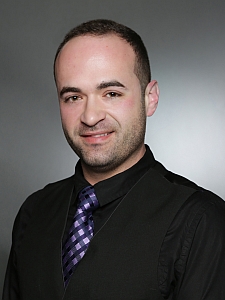 Qamil
Hair Colorist, Stylist
See my gallery of hair coloring and styling here
Reviews:
I went to Moss Salon because of a recommendation from a friend. The salon itself was very classy and fun. Qamil, my stylist was super friendly and made me feel right at home. He did exactly what I asked with my hair, and he also gave me recommendations for styling and how to keep it healthy. I'll definitely go back!
Stephanie Q. 6/24/14 e-mail review via HairMax
To start, I loved not having to wait. Qamil was personable and gave me a good haircut, NOT a given with my persnickety curly hair. I told him I'm leaving it long and he only trimmed, as promised, plus took time to show me how to apply product and tame the frizz. I also liked that he had nothing but positive comments about my natural, nearly white hair--no dye job pushed. Been there, done that. All in all, a very good experience.
Linda D. 5/22/14 e-mail review via HairMax
I've been a client of Qamil's for maybe a year now. He always listens to my hair-rants, gives good advice (I took his color advice, and am much happier) and does a great job. Up until recently I stayed with the same kind of haircut - safe & what I thought looked best for me. Last week I brought in some pictures of something different, and Qamil made some suggestions...so I crossed my fingers and let him go. I am SO SO happy with the cut! I feel great, and have gotten endless compliments. I just wanted to share this and say thank you again.
Kate C. 3/29/14 e-mail review
I've been here twice in the past 12 months and enjoyed both experiences. The first time around, I didn't have a stylist preference and was booked with Qamil. He's personable, funny and very attentive. He makes an effort to understand your hair care(or in my case lack of) routine and come up with style to fit this. I never really have any idea what to do with my hair and he's patient and helpful with my indecision and lack of knowledge about all things hair related. The salon is also lovely. Beautifully decorated, spacious and bright. It's a little expensive for my college student budget, but the peace of mind knowing that I will not walk out of there with a hair cut I don't like or looking stupid is worth it.
Claire C. 3/27/13 on Yelp 5 stars
I have been shopping around different salons ever since I moved to RI two years ago, and was never satisfied with any of them, until I found Moss. I read the excellent reviews here on Yelp, and decided to give them a try. The receptionist was very professional and friendly. My stylist, Qamil, was really cool. He was stylish himself, which made me feel comfortable, and he was very honest about what my very long hair needed, which I appreciated. He was very attentive- paid attention to me, and didn't yap with other stylists while working on my hair cut, which to me is very important. I left there feeling like a million bucks, and will now only see Qamil for any future haircuts.
Laura M. 2/12/13 on Yelp 5 stars
When I walked into Moss they were playing my favorite Mariah Carey jam, so I knew I was in for a treat. The decor is not really my taste (fake greek columns everywhere), but don't let it dissuade you. Qamil did my hair, and he did a bangin' job. I've had some weird haircuts and weirder hairdressers in the past, but Qamil was great! Down to earth, funny, easy to chat with while doing my hair. He asked a lot of questions about how I style my hair and gave me a few tips. I am totally happy with my style! I'll be back!
Lauren A. 4/18/13 on Yelp 5 stars
It's finally happened: I've found a salon IN Providence that can cut curly hair... beautifully! So let me start with the salon: it's gorgeous. The building is one of those old store fronts on S Main, across from Mill's Tavern and just past Hemenway's. The salon is spacious, light, warm and clean with a sort of shabby-chic/woodland vibe. They have a huge array of products and really nice jewelry, too. I was greeted immediately upon entering by a lovely receptionist, and offered a beverage. I waited for about two minutes before my stylist appeared and whisked me away for a consult. Now, onto the hair... It's been a long process, you guys... over three years. While there have been a few good cuts, there was never anything that actually ended up being exactly what I wanted, or something that I didn't even know I wanted. That's all changed now, because my head of hair officially belongs to Qamil. Not only is he talented, he's quite charming in a genuine way. Our conversation flowed, and within five minutes I knew he was going to give me a great haircut. "Your hair is exactly like my sisters," he said. Music to my ears. Why? Because this meant he understood the texture, the craziness, the unpredictability of it. It also meant he could harness it and give it a proper cut. And that he did. I brought in a photo of what I wanted... sort of. He got the gist, and before any dramatic snip he would warn me or consult me or just make me aware. Soon enough, I stopped watching him and just let him go to town. In all honesty, this it the best cut I've had in a very, very long time. Definitely since going short over a year ago. It's cute, it's sassy, it's sexy, it's stylish and it's easy to take care of. And it was only $45. I'm in bliss. So, this is the place to go to the best curly hair cut in town... and believe me, I've done the leg work. Ask for Qamil. I've found him for you, ladies.
Hilary H. 2/1/12 on Yelp 5 stars
Feedback: I recently moved to the area and have been searching for a stylist to cut my super curly hair. The reviews on Yelp led me to your salon and I was not disappointed. Qamil had a last minute cancellation, so was able to fit me in. He was easy to talk to and knew what he was doing. I LOVE the way my hair looks. He introduced me to the Deva Curl line which smelled great and seems to keep the frizz under control. My favorite part of the whole visit was that he listened to me and even offered to research frizz-reducing treatments that the salon does not currently offer. He truly cares about his clients and wants them to leave happy. I will most certainly return. I have found my salon! Thank you!!
Feedback: Impressive salon. Best haircut I've gotten in years! Frendly clients, stylists, greetings, service.
Rating: 5/5
Feedback: Qamil did an amazing job with my hair - what a rock star! After over a year or two without any cuts or color, my hair was screaming for some attention. I'm glad I went to the right place, and I look forward to returning soon.
Rating: 5/5
About:
I am the son of a hairdresser; my father has been in the business for 44 years. I virtually grew up in a hair salon. This has played a major role in my success and education as a hairdresser. You might say that hairdressing is in my blood.
Nickname:
Mili.
Years in industry:
Since 2004.
Product you can't live without?
Redken #9 & Moroccan Oil
What are your goals in life?
To own a private plane & a beach house.
If you weren't a hairdresser what would you be?
I would be a pilot.
Favorite Book?
"The Millenium Trilogy"
Favorite place you have visited?
Switzerland.
Rates:
Haircut Women's — $60
Haircut Men's — $35
Shampoo Style — $45
Single Process Color — $78
Half Head Foil — $130
Full Head Foil — $175
Toner — $40