Moss Salon in Providence
114 North Main Street
Providence, RI, 02903
(401) 751-8877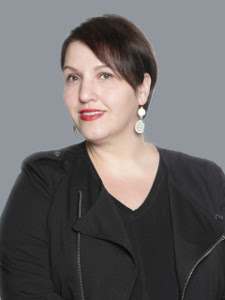 Anastasia
Colorist & Stylist
Reviews:
Sia (Tammy's assistant who is a total sweetheart), did the bulk of the caring for this time around, but I feel like I also get this from all I have contact w/. From having my coat hung, to tea being offered, magazines selected that might be of interest, soothing scalp massage w/ a peppermint treatment, inquiries as to what I desire to have happen, and whatever else I may need at the moment. I feel cared for and valued. Nothing better.
Michaela F. 2/12/2011 on Yelp 4 stars
About:
Nickname:
Sia.
Product you can't live without?
Volumista - Oribe!
Who or what inspires you?
Family, good friends, people in general.
If you weren't a hairdresser what would you be?
A teacher.
Years in industry:
Since 1999
Favorite celebrity?
Madonna.
Favorite place you have visited?
Greece.
Greatest Accomplishment?
Being the best auntie I can be to my niece.
Background:
Anastasia, who goes by the nickname of Sia, works as Tammy Tourtelott's assistant. She is, then, in the enviable position of being able to observe and absorb all of Tammy's skills and knowledge on a daily basis.
For Sia and Tammy, it's not just about a fabulous style and color. They each work to promote the hair's health and will give you advice on how to maintain that day-to-day. Healthy hair, in turn, brings a glow and a shine to the finished hairstyle.
Sia graduated from the Arthur Angelo Cosmetology School in 1997 and has been in the field of hairdressing ever since. In addition to working side by side with Tammy, Sia keeps herself up to date on hair coloring and styling via attending trainings by Goldwell.
She loves her career and is gratified by her work with each individual client, seeing to their unique, personal needs and requests.
There are, though, some hairs that Sia will be delighted to help you get rid of. She is skilled in facial waxing and will remove unwanted or unsightly facial hair. Shaping eyebrows by waxing them is also one of Sia's talents.