Moss Salon in Providence
114 North Main Street
Providence, RI, 02903
(401) 751-8877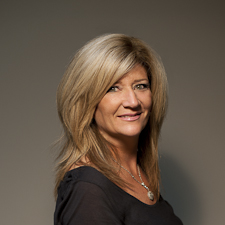 Tammy Tourtelott
Owner, Master Colorist
See my gallery of hair coloring and styling here.
Reviews:
I just have to say Moss Rocks!
I am a Nazi about my blonde highlights, and Tammy (the owner), gets the cool, icy shade I desire and the perfect natural looking placement right every time. Blonde is tough! And I've honestly found no one that does it better (and I have been around!). Tammy is talented, seasoned, grounded, and it's delightful to be in her company while in her chair.
I recently got my tresses trimmed too by the lovely Laurie Lamay the same day. Now, my hair is long w/ long layers. It's actually hard for me to discern whether I actually have a good haircut or not. But not so w/ the bang up job that I received recently. Laurie was conscious of areas that had been thinned out too much, and took pains to cut in a way that would help the strands framing my face grow in to look thicker and healthier. Plus she explained everything! I LOVE that!
At Moss I feel like I am treated like a Queen! Sia (Tammy's assistant who is a total sweetheart), did the bulk of the caring for this time around, but I feel like I also get this from all I have contact w/. From having my coat hung, to tea being offered, magazines selected that might be of interest, soothing scalp massage w/ a peppermint treatment, inquiries as to what I desire to have happen, and whatever else I may need at the moment. I feel cared for and valued. Nothing better.
Michaela F. 2/12/2011 on Yelp 4 stars
Feedback: I very much liked the first impression of the salon. From the minute I walked in the girls at the desk made me feel welcome and assisted me right away. I was there for consultation with Tammy whom I find to be very knowledgeable in what my issues were with my highlights and where I want to go with them. I am looking forward to my first appointment. I have a good feeling it will work out great.
Rating: 4/5
About:
Name:
Tammy Tourtelott
Nickname:
Tam, Turtles, Sissy
Hometown:
Scituate
Years in the industry:
Since 1983.
Product you can't live without?
Oribe - It's an amazing luxury line.
What or who inspires you?
Nature & my family.
Favorite Book:
"Knock Out" By Suzanne
Somers - A life changer!
What would you do if
you were not a hair colorist?
Landscape designer or travel critic.
Favorite place you have visited?
Nevis & Tobago
Greatest accomplishment in life so far?
Raising my son & my
relationship with my husband.

Background:
Tammy is a Master Colorist and one of the owners of Moss Salon, which opened in 2000.

Coloring hair in Providence for the past 30 years, she excels at her craft. Pursuing preeminence in her vocation, Tammy has trained under some of the industry's best and travels far and wide. From New York to California to Europe and back again, she seeks to perfect her skills. Tammy brings all this back home to Moss Salon for her clients and to train new staff. As a result, Tammy is known throughout the area as the "Blonde Guru."
Her convictions are best stated in her own words:
"I love my craft and I adore the transformations which take place before my eyes. How fortunate we are to be 'Day Makers.' Clients don't always come in with a smile on their face. But they always leave with one."
Tammy works hand in hand with her fabulous assistant, Sia. Together, they believe that maintaining the integrity of the hair is of the utmost importance. They insist on promoting healthy and shiny hair.
Tammy will take one look at your hair and have a vision of what she'll do in mind, but she will only reveal it after she has carefully and completely listened to your likes and dislikes.
She'll tell you why or why not a particular color is the appropriate choice and then procede with her amazing skills.
Sia will finish the look with a gorgeous shampoo and blow dry.
These are some of the advanced trainings she has attended:
Goldwell,
Redken,
Tutto Colors,
Minardi,
L'Oréal,
Tigi,
Sebastian,
Vidal Sassoon
Rates:
Haircut starting at $80
Root Color/Blowdry starting at $88
Half Head Foil starting at $165
Full Head Foil starting at $250
Toner starting at $38